Erie 1 BOCES will use this page to share important information and resources with our parents and the community during this unprecedented time. Please continue to check back for new and updated information as it becomes available.
COVID-19 Reopening Resources for K-12
Erie 1 BOCES' Latest Reopening Plan (August 31, 2020)
Health Screening for Students, Staff and Visitors
Remote Learning Commitment Form for Families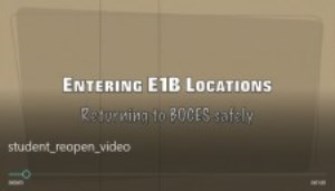 COVID-19 Testing and Contact Tracing Protocol
Public Meetings (Community Forum) Video
COVID-19 Information and Links
News and Updates
August Community Forums
In accordance with health and safety guidelines provided by the New York State Education Department and the Department of Health, Erie 1 BOCES will be implementing a hybrid instructional model in September. Should you decide to not have your child participate in the hybrid model, more information regarding full-time online instruction will be available as soon as feasible. You can read Erie 1 BOCES' full Reopening Plan here.
To help keep families informed, Erie 1 BOCES will be holding Reopening Plan Presentations and Community Forums to present its reopening plan. To register, please click on the date and time you wish to participate. Erie 1 BOCES will be collecting questions from participants in advance of the forum. If you wish to submit a question, please email ISTech@e1b.org.
Thursday, August 20, 2020 from 9:00 a.m. - 10:00 a.m. (Complete)
Thursday, August 20, 2020 from 2:00 p.m. - 3:00 p.m. (Complete)
Thursday, August 20, 2020 from 6:00 p.m. - 7:00 p.m. (Complete)
In addition to the Community Forums, Erie 1 BOCES has been meeting with its teachers and stakeholders to discuss reopening and gather feedback. This information is being considered as Erie 1 BOCES' reopening plans evolve.
Admin Resources
Visitor Protocol Education Campus
Visitors shall be limited to by appointment only. No visitor will be allowed to enter the building without a face covering. If a visitor arrives without a face covering, a disposable face covering will be provided. Upon initial entry into the building, visitors will be asked to sign in at the reception desk and maintain six-foot distance as they are signing in. All visitors will also be required to fill out a self-screening form either on paper or electronically. Only visitors with a temperature below 100 degrees Fahrenheit and pass the self-screening form, shall be allowed to conduct their pre-scheduled business on premises.