The Erie 1 BOCES Educational Foundation, Inc. is a private, independent, volunteer-led nonprofit 501 (c) (3), formed in 2019 to support, encourage and enrich the educational programs and staff activities of Erie 1 Board of Cooperative Educational Services ("BOCES").
The Foundation's Mission:
Provide financial support and resources, not otherwise available from regular budget sources or state or federal aid, for the benefit of the educational programs and staff activities offered by the BOCES.
Fund scholarships for eligible students to attend BOCES adult Workforce Development programs; fund materials, supplies or equipment required for eligible students to participate in all BOCES programs.
Fund scholarships for graduates of BOCES programs to attend post-secondary institutions in further preparation for competitive employment.
Engage community support for new initiatives to keep BOCES programs current and state of the art.
Foster relationships with former students of BOCES programs and their parents, as well as business, industry and government partners.
Erie 1 BOCES Foundation Directors:
President
Judith H. Katz
judyhkatz@aol.com
716-445-2658

Vice-President and Secretary
Nancy Bojanowski
nancyboj22@gmail.com
716-344-0087

Treasurer
Anne Spadone
annespadone@gmail.com
716-913-3568

Trustee
Elizabeth Angelbeck
lizangelbeck@gmail.com
716-681-3699

Trustee
Carol Barber
cbarber52@outlook.com
716-954-3697

Trustee
Jay Galligan
West Herr Automotive
jgalligan@westherr.com
716-984-2599

Trustee
Melody Jason
melodyjason2@gmail.com
716-583-5613

Trustee
Nate McConnell
Construction Exchange
NMcConnell@conexbuff.com
716-874-3435

Trustee
Ryan G. Smith
rsmith@websterszanyi.com
716-842-2800

Please feel free to contact any one of these Board members for more information or to share any ideas to assist with our mission.
How can I participate or contribute?
Please contact any Board member with ideas or questions.
Should you wish to donate, checks are made payable to the Erie 1 BOCES Educational Foundation, Inc.
c/o 355 Harlem Road, West Seneca, NY 14224
Please spread the word about our foundation.
Please make The Erie 1 BOCES Educational Foundation your charity of choice on Amazon Smile. It costs you nothing. Amazon donates a small amount for each purchase you make.
Please consider our foundation as a recipient for your fundraising event.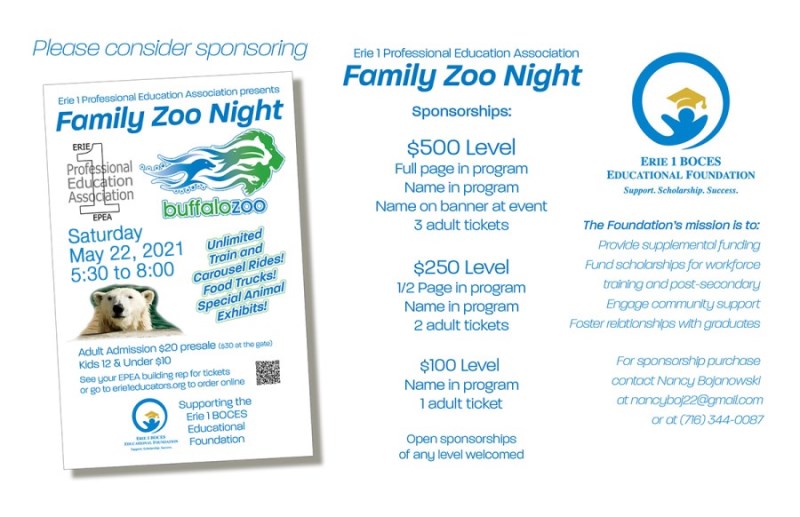 Sponsorships:
$500 Level
Amherst Federal Credit Union
Local Union #41, International Brotherhood of Electrical Workers
Full page in program
Name in program
Name on banner at event
3 adult tickets
$250 Level
LaBella Associates
National Grid
Cavan, Dudkinski and Associates
Katz and Baehre
Leonard and Judith Katz
Melody Jason
Webster Szanyi, LLP
Elisabeth Frank ('20) and Colleen Sloan Frank
Elizabeth Angelbeck
Erie County Council of Teacher Union Presidents
P-Tech Race and BUILD Staff
1/2 Page in program
Name in program
2 adult tickets
$100 Level
AFSCME 10, Local 2341
Candace Reimer and Family
AFSCME Local 2567
Lancaster Central Teachers Association
Name in program
1 adult ticket
Open sponsorships of any level welcomed
The Foundation's mission is to:
Provide supplemental funding
Fund scholarships for workforce training and post-secondary
Engage community support
Foster relationships with graduates
For sponsorship purchase
contact Nancy Bojanowski at nancyboj22@gmail.com or at (716) 344-0087