Creating Healthy Schools and Communities
About Creating Healthy Schools and Communities (CHSC):
NYS Department of Health Grant initiative awarded to Erie 1 BOCES to reduce the risk of obesity and chronic disease by increasing demand for and access to healthy food and physical activity. The grant period is June 1, 2021 – May 31, 2026.
Our goal is to create meaningful sustainable change through the implementation of policy, systems, and environmental improvements.
Erie 1 BOCES is proud to collaborate with Cornell Cooperative Extension of Erie County, Healthy Community Alliance and Go Bike Buffalo to lead the Creating Healthy Schools and Communities (CHSC) initiative, a coordinated, multi-sector plan designed to increase demand for and access to healthy, affordable foods and opportunities for daily physical activity in high-need school districts and their associated communities. The school districts currently involved in this effort are Salamanca, Randolph, West Valley, Springville Griffith Institute, Lackawanna, Cheektowaga Central, Cheektowaga Sloan and Maryvale. We will be working in Cattaraugus County, the Town of Cheektowaga, the City of Lackawanna and the Town of Springville.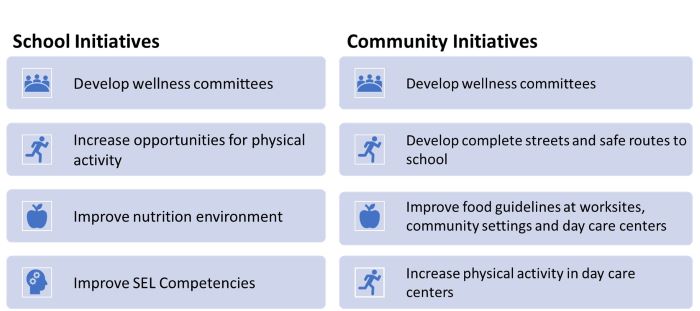 Types of Change to Promote Wellness: Policies, Systems & Environments (PSEs)
Policy, Systems and Environment (PSE) change is a sustainable way of improving health by modifying the policies, systems, and environments within a community.
Policy change- The passing of new laws, ordinances, resolutions, regulations, or rules
Systems change- Change to unwritten rules or processes of an organization, institution, or community
Environment Change- Changes made to the physical, economic, or social environment
Why PSE?
Individual lifestyle choices are only one part of our ability to live healthy, productive lives. A mix of social, economic and physical factors drives health disparities, and these factors are influenced by the policies and processes of our community. Therefore we are working to improve school, workplace and early childhood center wellness policies and to create a physical environment that is more conducive to being physically active. We aim to help make the healthy choice, the easy choice for everyone in our community.
Click here to learn more about PSEs and how you can help.
RESOURCES
Wellness Wednesday Webinars!
Are you looking to learn more about school wellness, but are short on time? Join us on the third Wednesday of every month for a 30 minute webinar on various topics.
Click here to view the topics and register for upcoming webinars.
Recent Webinars
Policies and Practices that Support Staff Wellness